Campaign Spotlight
| | | | | |
| --- | --- | --- | --- | --- |
| MO | St. Louis | 4/2/2013 | 3/16th of one cent sales tax for improvements to the Gateway Arch grounds, and regional parks and trails | $124,000,000 |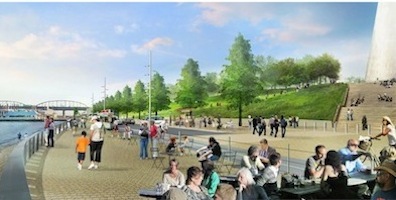 About the Campaign:
The Safe and Accessible Arch and Public Parks Initiative, a ballot measure before voters in both the city of St. Louis and St. Louis County, would dedicate a 3/16-cent sales tax to increasing safety and access across the Gateway Arch grounds, the symbol of St. Louis, as well as expanding the regionís trail system and improving local parks.

Proposition P, as the measure is known, expands Proposition C, approved by the voters in 2000. The earlier proposition established a regional parks authority, which has been protecting natural areas, wildlife habitat, and expanding and improving parks and trails throughout the St. Louis metropolitan area.

If approved, Proposition P is expected to generate $31 million per year, amounting to less than 2 cents on every $10 taxable purchase. The funds would go to local parks, trails, and the plan to make the Arch grounds safer and more accessible. Local parks would receive an estimated $12.6 million per year, which would be distributed to local municipalities.

Proposition P includes strict accountability measures and safeguards. There will be full public disclosure of how the funds are spent through an annual public audit. Food and prescription drugs will be exempt. A capital improvement plan spells out what the funds can be used for and that funds can only be used for those purposes.

The Conservation Campaign is serving as a general consultant for the campaign.

What's At Stake
In 2000, voters in the city of St. Louis and four counties in the two-state St. Louis area passed the Clean Water, Safe Parks and Community Trails initiative (Proposition C), in one of the first campaigns sponsored by The Conservation Campaign. Approval of the initiative established a regional parks authority to improve the St. Louis region's parks and trails. Encompassing two counties and St. Louis City, the 1,200-square-mile district includes more than 100 municipalities.

Funds generated through the initiative have been invested in building more than 104 miles of greenways and 84 miles of on-street trails. Great River Greenway projects have protected open space, natural areas, and land along rivers and streams.

But there is still much more to do. Great River Greenways has received $135 million in project requests for new parks and trails over the next five years, but only $55 million is available in expected revenues. If approved by the voters, Proposition P will go a long way towards improving parks and completing the trail system.

Area parks have long experienced financial shortfalls. St. Louis, St. Louis County and municipalities in St. Louis County have identified a need for more than $200 million to restore, maintain and improve community parks.

The iconic St. Louis Arch and the cityís riverfront are in need of serious renovation.†Funds dedicated to the Arch grounds project would make the area safer and more accessible and revitalize the Arch grounds to increase tourism. Access from the Arch grounds to the Mississippi riverfront will also be improved and made more accessible.

By attracting a significantly greater number of tourists to the area and enticing them to stay longer, this project will help improve the overall economy and create new jobs. Proposition P will get people working and stimulate the local economy, creating around 530 construction jobs and 4,400 new permanent jobs.†

Proposition P funds for the Arch grounds project would be leveraged with private, federal, state, and other local funds.

Click here to Learn More




Get Involved with the Conservation Campaign:

Donate Now - Contribute online instantly and securely using your credit card. Your donation will be used where it's needed most.

Join Now - Sign up to be notified about similar campaigns near you.